Most of Dr. Pritchett's patients come from out of town. Increasingly, Seattle is a travel destination as a gateway to Asia and Alaska. It is the home of companies such as Amazon, Microsoft, and Costco, and has major facilities for Boeing and Google. Seattle is fun to visit and has a high-tech medical community. It is a great place to provide and receive medical care. Dr. Pritchett is a native and enjoys the change and quiet sophistication of this beautiful and diverse community.
Our practice is well-equipped to receive new patients. We welcome out of town patients. Our patients come from all over the United States, Canada and many foreign countries. We are able to craft financial solutions so that care for many patients is feasible on a cash basis, and we work with most major insurance plans. We accept out-of-network patients, but they may have an additional cost.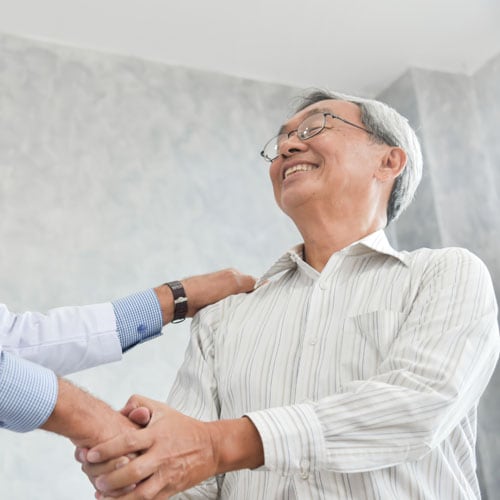 Request a Remote Consult
Dr. Pritchett can answer your questions or discuss your condition and possible solutions electronically or by videochat. The cost is $300.
Request a Remote Consult »
Preparation
Many of our out of town patients contact us in advance to see if we are a good fit for their needs. We have them send us medical information, including age, height, weight, allergies, and any medical conditions they have. We also have our patients send their x-rays and any pertinent records. This information is sent to:

ProOrtho Attn: Susan Knudson
901 Boren Ave. #711
Seattle, WA 98104

Her phone and email are 425 216 7905
s.knudson@proliancesurgeons.com
Please include your contact information (telephone and email). After reviewing your information, Dr. Pritchett will contact you. If it seems you are a good fit, we can make arrangements for you to come to Seattle for surgery. We see all patients in the office in advance, but in most instances this visit can be on the same trip to Seattle.
Staying in Seattle
We ask patients to plan to stay in Seattle for a week. This will include a preoperative consultation, surgery, and follow-up.
Our procedures are performed as an outpatient. There are several excellent hotels to choose from. The Silver Cloud on the corner of Broadway and Madison Street in downtown Seattle (link) is the most common choice. It is important to stay in downtown Seattle to be close to Dr. Pritchett's Seattle office. We use two different operating rooms depending on the day of the week. One is in Kirkland and the other in Seattle. We want all patients to stay in Seattle. The transportation to the hotel after surgery is not a problem, but needs advance planning.
Increasingly, alternative arrangements such as Airbnb are used, and this also has worked out well for our patients.
Care Giver Support
You need to bring a caregiver with you. We will need to meet this person in advance, and they will accompany you to the ambulatory center for surgery. They will also accompany you from the ambulatory center back to your hotel and to the office for your check up.